Need UPC Barcodes to sell your products in retail stores?  UPCBarcode.com is your source for legitimate and affordable UPCs.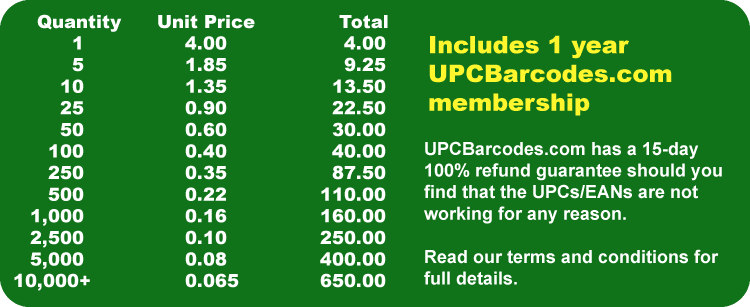 PURCHASE UPCs
When you purchase, you receive:
UPC Numbers – we provide  a spreadsheet of all of your purchased numbers
UPC Barcode images in 2 formats – jpg and eps. Perfect for all graphic design or label creation and printing
Access to the membership portion of upcbarcodes.com, where you can manage your UPCs and previous orders.
Certificate of Authenticity indicating your ownership of these UPCs. Click here for an inexpensive and quick solution.
LIST YOUR UPCs
By listing your product with upcbarcodes.com you get:
Unlimited uploads of your products into the UPC Barcodes database
Hosted Webpage for all of your products
Each product will be indexed by Google for easy access.
upcbarcodes.com will help make your products more visible to customers, retailers, and distributors all over the world and will make it easy for buyers to find your products by searching for items by name, description or UPC barcode number.
Get your first 30 days for $1.00. You can cancel at any time.
After the 30 day trial period, your subscription is only $19.95/6 months.
By Registering for this service, you have read and agree to the terms and conditions of the site